We are
INDIA SWEET HOUSE
Inspired by the traditional richness of India's culinary history, we set to revive bygone sweets, old-time traditional snacks and savouries back to the urban plate and palate. Our 200+ array of traditionally prepared sweets and savouries romance every nook of India's diverse region.

Our Story
Delightfully diverse, truly traditional and absolutely organic.
Inspired to explore and bring alive India's rich tapestry of traditional sweets and savouries, Vishwanath and Shwetha began this earnest endeavour to bring their vision to life.
Imagineering an ecosystem that is truly honest at heart, the India Sweet House journey began on Karma Farms, a 20+ acre farm managed and cared for by this entrepreneurial Bangalore couple. Our time-honoured traditional treats are crafted in organic ghee, khova and milk, fresh every day, on a this farm not very far from Bangalore.
A farm that is home to healthy happy cows and a fully automated milking parlour, ensuring untouched milk harvest and production that fuels the India Sweet House kitchen every morning. To us at India Sweet House, the soul of a sweet lies in the purity of its ingredients and simplicity of its craft.
Fortunately, we are able to bring both to every sweet box as India's only sweets & savouries brand that crafts its delicacies on an organic farm, every day.

The Founders
Simple, wholesome and traditional first, India Sweet House inherits its discernable personality from its founding partners, Shwetha, Vishwanath and Rajesh.
Born out of a vision to go beyond the popular, and truly uncover the incredible flavours enjoyed by thousands across towns, states and sometimes even on the streets of a city. Rooted in tradition and committed to bringing authentic flavours to the forefront, the founders have built a truly unique ecosystem of farm fresh, efficient and ultra-hygienic production and homely hospitality and service across all of its stores.
While Shwetha and Vishwanath mastermind the brand's growth and service, Rajesh Mehta brings decades of experience to creating just that perfect balance of flavour and mouthfeel into every product. A farm born brand, built with genuine efforts, from automated milking parlours, deeply researched recipes to highly hygienic kitchen units, every sweet and savoury made at India sweet House brings a distinct flavour to every celebration, small and big.
A tightly knit family of over 100 ISH employees, primarily women, bring further wholesomeness to these efforts as they tend to every detail and customer.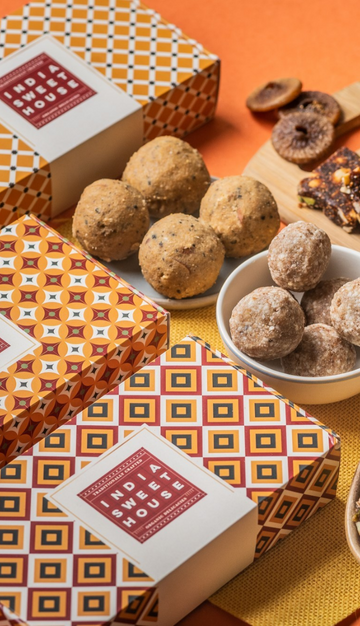 WE ARE
INDIA SWEET HOUSE
India Sweet House delivers traditionally crafted, organic delicacies from farm to festivities across India, USA and Australia. Bringing over 200 traditional Indian sweets, well-crafted mithais, mindfully curated gift boxes, organic vegetarian snacks and sweets to every celebration, we invite you to surrender to India's sweetest stories.
We pride ourselves on being intrinsically local, so be it evening snacks, delightfully desi chips, namkeens or mouthwatering halwas or a soulful milk cake, we have a flavour for every palate.
Our menu is constantly expanding as we discover bygone traditions, forgotten customary treats and bring them to your plate. Come discover India in every delightful bite.
We are geared to cater to your big celebrations, customize every detail for your private and corporate occasions and serve you across the globe.